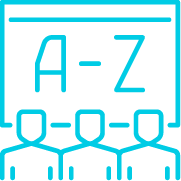 Level 4 Certificate in British Sign Language (accredited by Signature)
This course enables students to use of BSL at an extended level and helps learners develop vocabulary. Students will learn to converse with a variety of participants using complex or abstract ideas. The course will include teaching on Sign Language linguistics to help students understand the language more.
This course has three Learning Outcomes (units); LO1 – "Use receptive and productive skills to engage in extended social interaction" LO2 – "Maintain fluency, grammatical accuracy and coherence in sustained contributions containing extended language" LO3 – "Understand sustained signed communication containing extended language."
The course includes three practical assessments which are internally marked and three externally marked assessments.
The course lasts 32 weeks and is based at Trinity University, Leeds.